How to Claim Your FREE Copy of "Ronan McMahon's Profit Principle"
"Ronan McMahon reveals the closely held formula he's applied time and time again in markets around the world to pocket 100% gains within five years.
This time, it could be sooner."
— Jackie Flynn, Publisher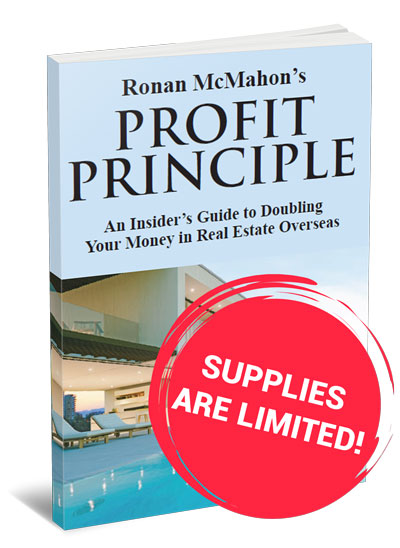 DO NOT Spend a Cent on Real Estate Abroad Until You've Read this Book!
Send Me Your Address!
I'd Like to Rush You a FREE Copy of This Latest Edition of My Book to Your Doorstep ASAP—You Pay Just $5.97 Shipping.
Dear Reader,
Hi, Ronan McMahon here. You may know me from the pages of International Living, where I share research and recommendations about profiting from real estate around the world.
I'm writing to you today because a situation has presented itself that is even more potentially profitable than anything I've seen in the last decade.
It has created multiple profit opportunities in specific real estate markets scattered all over the world.
From a stretch of Caribbean beach with powder-white sands and warm blue waters…to a dramatic, wind-swept swath of South American coast…from a friendly stretch of sun-drenched European coastl…to a sophisticated retreat facing the Alboran Sea…and that's just for starters…
I believe this level of opportunity for gains—in places you could easily double your money within five years—will not likely be repeated in our lifetimes.
So I wanted to lay out the situation clearly and directly—so you can decide for yourself if one of these profit opportunities on the table today would suit your investment goals….
That's why, for a limited time, I'd like to rush a FREE copy of the newest edition of my popular book, Ronan McMahon's Profit Principle: An Insider's Guide to Doubling Your Money in Real Estate Overseas, to your doorstep. In fact, I'll send a copy to anybody with a valid U.S. mailing address who claims one. (All I ask is that you pay $5.97 to help cover the cost of shipping.)
First, though, let me give you a little context so you understand why I'm so excited by the situation at hand today...
Opportunities Most People Overlook
The world is in a state of flux. You have the pandemic, a volatile economy, the election fallout. In the UK and Europe, "Brexit" still isn't sorted.
It's the sort of climate that many people find unsettling.
But I predict that this year is going to be a banner year for investing in—and potentially profiting from—certain properties located overseas in markets that meet specific criteria.
I say that because the uncertainty we all see, it generates opportunity most people overlook.
But if you know the formula for spotting it…you can come out ahead. Way ahead. And it doesn't matter what happens with politics at home or abroad.
Right now is the time for you to get educated about the ways and places opportunity presents itself—outside stocks and bonds.
For instance, you might see the opportunity for profit in a popular, sun-splashed expat retreat in western Europe...or along a Pacific-coast frontier, where sandy beaches run for miles...or in a smart, cultured, book-loving city the majority of people couldn't point to on a map...
If you're considering prudent ways to invest outside the stock market... and if you're interested in potentially pocketing 100% gains within five years with an investment in real estate overseas...I'd encourage you to turn your gaze beyond U.S. shores.
This uncertain time that finds us sequestering ourselves—it WILL pass. And when it does, there will be smart opportunities to mine.
Because what I'm seeing unfold today beyond the U.S. borders—in these particular markets—has already produced significant gains for me and your fellow readers acting on my advice.
Read My Research and You Could
Profit on a Sandy Swath of Caribbean Where

Tall Palms Sway Above Turquoise Waters

Take, for example, one market in the Caribbean that's under-the-radar and which I believe could be the next great beachfront opportunity. It's in a place few are is paying attention to…yet.

It's not well-known. Not because it's not beautiful but because access traditionally was not great. And while big hotels and resorts were beginning to go in nearby, this place was a little dot tucked between better-known locales.

It's the kind of place you go snorkeling with tropical fish and turtles in the morning and then shoot the breeze and sip a cold drink at a beachside cabana in the afternoon. It's a quiet, laidback, serene place.

Inland you'll find a natural rainforest park where you can swim in an underground river or zipline over the canopy.

Until the 1960's, this beach town was accessible only by boat. In 1959, a group of former World War II frogmen came here—led by a well-known businessman with a penchant for big game hunting—to search for a sunken Spanish wreck that ran aground on an offshore reef in 1741.

They found the sea around here to be rich with wildlife and wrecks—ideal for snorkeling and diving. (And it still is.) But there were no hotels. So our businessman set up a dive club and bought land on which he built a little resort for visiting divers. That was the start of the transformation.

It was jump-started again by the boom in tourism that began to take place all around it in the late 1960's—with infrastructure improvements like a new international airport, new roads, hotels, and tourist amenities. Those helped draw visitors to the region—and more recent improvements and savvy marketing have led to a further boom with tourist numbers reaching around 13 million across the region in 2017 and 19 million in 2019. Even now, tourists are still coming, never mind the pandemic.

But while better-known locales nearby have hit the big time, this sleepy community has flown largely under the radar...and that has created opportunity today. This place has benefited hugely from the nearby infrastructure boom (it's easy to get here now)—but has managed to retain its quiet, no-all-inclusives feel.

It's ideal for visitors who like the history, weather, culture, food, and water activities of the region. These are not your typical "resort type" tourists. These are folks who prefer a more "local" experience and like to stay in condos. But there are not enough of them on offer.

In 2018, I spotted a deal here that allowed buyers a foothold for as little as $147,000 on a 2-bed condo that was fully furnished (down to the bed sheets and teacups) and grossing an average of $2,740 per month—and financing was available.

That's just one example of what I'm talking about here—the value in this property is intrinsic—it sits on the curve of its own beach, right outside of town—a real oasis—yet it's overlooked.

Even now, in 2021, along this same coast, it's possible to pick up a 2-bed 2-bath condo for $143,000.

Exactly the sort of opportunity I explore in-depth—and show you how to mine—in Ronan McMahon's Profit Principle: An Insider's Guide to Doubling Your Money in Real Estate Overseas.
The Timing Couldn't Be Better for You
I want to be clear: The way that I invest—and invite a group of readers to invest—is very different from how most people who tout overseas property investing do it.
I have a specific profit principle that I rely on—and stick to. And that's why I'm so successful. I'm not doing what the mainstream is doing.
I'm all about putting boots on the ground—my team and I see everything for ourselves. And I'm always looking for opportunities that exhibit particular attributes, which I explain in detail in my book.
Take, for example, one of the earliest deals I made in Panama—back in 2005. I got in when the market was at the start of an upward growth trajectory. I bought with just $5,000 down. I pocketed $72,370 by buying a pre-construction condo for $147,630 and selling in 2008, six months after delivery for $220,000.
While other "investment gurus" kept their weight behind that market and continued recommending investment after investment there… I watched closely, felt the real opportunity had passed, and didn't make another recommendation in Panama until January 2016.
I did that because I rely on a special formula—a tested profit principle—that allows me to both spot opportunity where others miss it…and to identify very clearly when the opportunity has passed.
In other words: It's a formula with clear "go" and "stop" signals. Very useful.
And it's something I explain in full in Ronan McMahon's Profit Principle, which I'd be happy to send to you today, FREE. All I ask is that you pay shipping.
You know, the global financial crisis back in 2008 had a big impact on many of the places on my beat around the world. What started as the bursting of the U.S. housing bubble turned into a global explosion, engulfing overheated locales all over the planet.
Once-sizzling markets went cold…the availability of easy credit vanished in an instant…owners found themselves underwater, saddled with real estate worth sometimes hundreds of thousands less than they'd paid for it.
Defaults and foreclosures afflicted communities all over the world. Underfunded developers went belly up. Banks ended up holding billions of dollars of overpriced assets on their books…
The mess in the U.S. became, really, a mess all around the world…
But that has resulted in what can only be described today as an up swell of opportunity, which is what prompted me to first write-and now update- this book.
Because nobody else is talking about the world in this way. In the media—including the financial media—it's all politics and intrigue and back-and-forth chatter about what it all means for the U.S. and global stock markets (and, in fact, nobody knows what it means).
So while the mainstream is busy talking to itself in U.S.-centric circles...most people are missing out on what could be the biggest up swell of profit opportunity in international real estate in our lifetime. And the pandemic is serving to accelerate the trends and opportunities associated with them.
I say that because I see the opportunity as being multi-fold right now. This is a big deal. Lots of factors are coming together at once. And the people who take advantage of this moment in history in the right way could profit handsomely. Here's why I say that...
The Work-from-Home Trend
Back in 2018, only 12% of Americans, given the choice, said they would choose to live in a big city. The majority said they wanted something more rural…with lower costs and a better quality of life.
As 2019 came to a close, it was reported that hundreds of workers were leaving the biggest U.S. cities every day. They left for places they could find lower taxes, no commute, cheaper housing, lower costs, bigger homes, gardens…
The tools of the digital revolution were already in the hands of millions of people. The trend in "work from home" was growing fast. And many people had long ago discovered it was really "work from anywhere." For years on my travels I've met mobile people with flexible jobs working online…a few months in Portugal…a few months in Mexico…
Only one thing stood in the way of anyone who could do their job remotely: the culture of work. You had to turn up…to physically be somewhere.
Then the coronavirus pandemic and lockdown happened. An emerging trend became a mass movement, the new normal for millions of people almost overnight.
Folks are waking up to the possibilities. Why pay thousands in rent and commute long hours when you can do your job after a daily morning jog on a Caribbean beach and save a whole lot of money living somewhere warm?
Because of the COVID-19 crisis millions more people are beginning to work from anywhere. This can play into your hands if you buy the right real estate in the right places—the places where they want to live.
Super-Low, Even Zero, Interest Rates
Interest rates are historically low right now—and that means in some places you have the opportunity to use leverage to create massive profits from real estate.
I trace it back to July 2009 when Sweden's Riksbank was the first central bank in the world to implement a negative interest rate. That's right...they started charging to hold funds on deposit. It was a desperate policy response to the financial crisis. The idea was to encourage banks to lend more. And to create a system-wide disincentive to sit on cash.
The European Central Bank (ECB) soon followed. Now, a decade on, we are in an entrenched period of negative rates in Europe. In the U.S., mortgage rates are nearing a historic low.
As real estate investors, there has never been a better time to borrow money…to use leverage. Leverage works by using someone else's money to buy a property, thereby minimizing your initial investment and freeing up your cash flow.
The right deal is key. You don't want to buy a bad deal just because of cheap and easy credit.
But there has never been a better time to borrow money in Europe. The ECB is offering almost free money... and—in the right spots—you can use this to supercharge your returns.
Good news: North Americans can borrow in Portugal, France, Spain, Italy…
I have a special formula I explain in Ronan McMahon's Profit Principle which allows me (and it can allow you, too) to capitalize on situations like this and help you not only identify smart opportunities but secure much better deals than the average Joe could get just walking in off the street.
International Tourism Has Been Up, Historically—(and Will Be Again, Post-Pandemic)—With Some Changes
There's another dynamic at work right now as well that makes today a particularly good time to buy certain properties overseas.
International tourism numbers and confidence have been on the rise. And, once this pandemic scare has passed - and it will - the tourists will be back. In certain key markets I recommend, this is excellent news because it sets you up to make a potential killing on rental income.
By choosing a location with international demand, you insulate yourself against losses should one type of vacationer stop coming. When you have demand from all over the world, if one particular market segment goes south, you're not exposed to the risk of all your rental income drying up.
We're seeing this dynamic at play all over the world—in markets like the Riviera Maya south of Cancun and in parts of Spain and Portugal as well. These are pockets of opportunity I point you to in Ronan McMahon's Profit Principle and explore ways to profit from them.
With diversified demand in a market, you're in a better position to absorb changes, so this is a welcome development in certain markets and one worth tracking.
What's more, vacation rentals can be nimble—and the right kind of rental in the right spot will do well, I predict. Yes, plenty of rentals will fail. But those with their act together will thrive in the post-pandemic world. I stay almost exclusively in Airbnbs and will continue to do so. With a rental you control your own space. You can avoid restaurants and bars and hotel lobbies.
Airbnb has brought in deep clean protocols for hosts. And the new legion of "work from anywhere" folks I mentioned earlier are not interested in staying in hotels for weeks and months. They want a comfortable property, preferably with something special, a hot tub or a stunning view. Slow travel with a laptop is the new normal. An Airbnb with a nice terrace to work from is desired…
My point with all this is: If you have ever considered investing in real estate overseas… NOW is the time to do it. If, that is, you apply my profit principle—my special, proven formula for buying with an eye to sound gains in real estate abroad.
Do Not Invest in Any Real Estate
Abroad Until You Read this Book
I believe that investing in real estate overseas—whether it's a beachfront lot or city condo or anything in between—should be an equal-opportunity proposition.
What I mean is: You don't need to be rich and well connected to make money in real estate overseas—even double your investment within five years. My goal with my book is to show you how it's done.
But you do need to know how to spot the right opportunities—and you need the formula I use to capitalize on them safely, in the right way at the right time.
In Ronan McMahon's Profit Principle, I lay it all out clearly for you, revealing the strategies and techniques I'm personally using when investing with my own money—and which a group of your fellow readers who follow my recommendations have the opportunity to benefit from as well.
If you're a conservative investor (or even if you're not), you should understand that one of the biggest advantages to investing overseas is that when you do, you remove a portion of your nest egg from the mercy of a single, domestic market.
If things were ever to go belly up in the U.S. —and that's not such a far-fetched idea these days— having some of your money outside of the States could be the only thing that saves your hide.
Now, I realize that times have been good of late in the United States. But this coronavirus scare has spooked the markets (along with the rest of us)—and now's a good time to be thinking about moving some funds outside of stocks and outside of the U.S..
When times are good, there's a temptation to be insular, to focus on the opportunities that are closest to us. It's human nature. When we're happy and things are relatively good, we imagine that things will always be this good.
Though understandable, this feeling is shortsighted when it comes to investing.
I say that because it can set you up for a fall if or when things go poorly in the future. (Just look at the endless optimism in the run-up to the 2008 market crash in the U.S. for a primer in the dangers of having all your eggs in one basket.)
That's why, in Ronan McMahon's Profit Principle, I talk about—
Why I believe investing in real estate overseas right now—bought the right way, in the right markets—can be the ultimate insurance protection against a downturn and against changes to the dollar…
I explain the essentials behind the formula I use to pinpoint profitable opportunities in markets all around the world—from Latin America to Europe to Southeast Asia.
I show you specifically how to distinguish a worthwhile profit play from one you should walk past, fast.
I introduce you to 7 overlooked markets around the world today in 2020, which are—when played the right way—ripe for profits.
I walk you through, step-by-step, how you could easily double your money in five years or less.
And that's just for starters…
Get the Formula—and the Tools—
for Tracking Opportunity and Profits
The profit principle I follow when investing in international real estate is a tried-and-true formula for gains that anybody can pick up and use. I developed it out in the real world—where property prices can go up and go down.
After all, there is risk inherent in any investment, and there are no guarantees.
But my goal is to produce profits, and it's possible to do that handily—no matter what the market at large is up to—when you abide by my formula and apply the tools I include in Ronan McMahon's Profit Principle for spotting opportunity.
I earned my real estate stripes the hard way—through more than a decade of boots-on-the-ground research and hands-on investing all around the world.
You know, back in the early 2000's, real estate "gurus" were popping up all over when the housing markets in North America and Europe were entering a boom. Anyone with even a basic knowledge of real estate was peddling his "insights."
But frankly, back then making a profit on real estate was like shooting fish in a barrel. You just had to buy, hold for a short time, and watch the value of your property rise. Prices became silly expensive.
These "merchants of hype" should have seen that the situation was too good to last. But they didn't—and, whether due to ignorance or recklessness, they continued to fuel the buying frenzy right up until the crash.
But you didn't have to be an expert to see that the market made no sense: Ordinary homes were selling for 4.5 times median earnings. (To put that in perspective: In 1970 the median home price in the U.S. was about 1.7 times the annual median household income. In 2000 it was 2.3 times.)
In the wake of the crash in late 2008, most of these self-proclaimed real estate experts simply disappeared. When faced with a true crisis market, they didn't know how to act or how to seek opportunity—and they faded away.
But I knew how to spot profitable plays and take advantage of them, even in a challenging environment. So my own investments went up in value—as did those I pinpointed for the folks who follow my research.
In the last handful of years, I've traveled to more than 25 countries on four continents (many more than once). I spend as much as five solid weeks on the road at a time—and these days I'm away more than I'm home.
Now, to be clear, while I pound a lot of pavement and walk a lot of beaches…for every worthwhile opportunity I recommend—there are ten more that don't make the cut. But none of my research or time on the ground is wasted.
After more than a decade investigating international real estate markets, my Little Black Book of contacts contains the names and cell phones for the highest-level decision makers, developers, and builders in the world.
I have a well-established and unparalleled network, and that helps me get the inside track on what's going on around the world. My in-depth, boots-on-the-ground approach to investing has paid off.
Invest in Properties Poised
to Rise Sharply in Value
Let me explain what I mean. For example…
In December 2014, I made a recommendation for one of the strongest luxury deals to ever cross my desk—a chance to own a luxury condo in a golf and resort community. The deal was to buy a luxury ocean-view condo, pre-construction. Again, I locked one down. (I never recommend anything that I wouldn't be comfortable owning, too.)
When I bought, I secured a special price of $336,156. When I recommended these condos, I made a bold prediction: that by the time the condo was delivered, it would list for north of $500,000. Two-and-a-half years later, the condo type I bought listed at $499,735.
Their rental potential is strong, too. These are true luxury—and the vacationers who will be willing to rent one are happy to pay a premium for the high-class surrounds and finishes. Within a couple of years of taking possession, I expect this condo will throw off an annual income of $36,000 or more.
And there's opportunity to be mined in Europe, too…
In 2011, for instance, I recommended buying condos in Dublin, Ireland near the International Financial Services Centre (IFSC). At that point, they were selling from €140,000, well below their true value. That pricing reflected the crisis in Ireland's real estate market. In 2017, you could sell one of those condos for double that, €280,000. That's a gain of €140,000 in six years. And you could have banked an additional €100,800 over six years in rental income along the way for a total cash windfall of €240,800.
And now, I'm finding really excellent opportunity. In fact, in September 2020 (just a few months ago) I was in Portugal scouting for worthwhile deals. And I found some.
Along this country's Silver Coast, for instance—that's the stretch of Atlantic coastline just north of Lisbon, famous for its ancient towns, breathtaking beaches, and rugged cliffs—I found incredible beachfront homes…and great-value resort properties…
You can get serious bang for your buck. I'm talking half the price you'd pay for the equivalent in Portugal's much more touristed Algarve region. Yet the beaches here are just as stunning.
Dotted around the hillsides overlooking a lovely lagoon, I found stand-alone villas with prices from about €270,000. That's with a pool and a modern finish. Up your budget and you could get a spectacular, modern designed, glass-fronted villa with panoramic ocean views.
From a second-home perspective, there's some serious deep value here. You get top-tier beach on your doorstep and access to world-class golf. Lisbon is just an hour's drive away, and you're only 10-15 minutes from a peaceful medieval town. I spent an afternoon there, meandering down cobble streets and enjoying the small cafés and craft stores, even taking a short jaunt through the streets on a horse and cart. It's an Old-World joy and a perfect spot for a day-trip.
In Ronan McMahon's Profit Principle, I lay out the strategy I used to track down deals like these—and show you how you could easily do it as well.
So many investment portfolios are closely tied to the United States. That might be ok when the economy and the currency are strong. But when things aren't so great, having all your eggs in one basket proves much less attractive.
If you're like most folks, your retirement account is likely 100% allocated to the U.S. in dollar-denominated assets. That's a bet that the U.S. will continue unchallenged for your lifetime and beyond. All you have to do is check your current balance, and I think you'll agree:
That's a risky bet to make.
And that's why I'm giving away copies of my book today to anybody with a U.S. mailing address who claims one. All I'm asking is that you cover $5.97 for shipping. I'm on a mission to show real-estate investors like you just how potentially lucrative—and prudent—this approach to profits in international real estate can be. I want to show you how you, too, can do it.
Real Estate Overseas is Like
Insurance…with Extra Upside
Economies rise and economies fall. But my profit principle relies on a faithful strategy for pinpointing destinations that are on the upswing—where values are set to rise. That makes it possible to own in locations where you can make strong gains as the market appreciates.
In Ronan McMahon's Profit Principle, I show you how to buy in locales where, for instance, there's a new middle and upper-middle class…new roads, bridges or flight routes are opening up…or a crisis situation allows you to buy for pennies on the dollar.
But there's an added perk. Because when you follow the strategy I lay out in this book, diversification comes as the cherry on top of the profits.
Investing in real estate outside the U.S. isn't like putting your money in a bank overseas with a tiny annual rate of return. Buying and holding in the way I recommend means that your money is naturally diversified outside the United States. Let me explain...
In effect, you can use overseas real estate as a hedge against bad times at home. It's like "insurance."
But unlike traditional "insurance," using overseas real estate as a hedge isn't "dead money," like premium payments that you effectively lose if nothing bad actually happens.
This kind of "insurance" comes with a whole lot of upside—regardless of the state of the economy back home. Depending on the particular situation, you could benefit from appreciation, from rental income, and even from the currency exchange as well in many places.
To give you an example of the potential for appreciation that can be tapped outside the U.S.—when you know what to look for... consider this:
In 2017 I had my eye on Panama. Not only had the global elite been clamoring for properties there, but the strong local economy had added more folks to the upper-middle-class bracket over the decade prior. (The World Bank now ranks Panama as a high-income nation.) So I spotted a market among local Panamanians, too.
Plus Panama's safety and stability is a big draw for wealthy Latin Americans from around the region—they feel comfortable in Panama flaunting their designer bling and Lamborghinis.
So I realized that tourists, expats, executives, and well-heeled Panamanians and other Latin Americans would all be potential renters there—for properties in the right spot.
And I'd found the spot. I was able to arrange a special deal on property on the nicest, closest beach to Panama City, Panama—a handful of beachside condos the developer would let go for $199,000 each—a deal the average person wandering in off the street couldn't have accessed.
Two years later, in 2019, a comparable condo in that same development—though farther back from the beach—was listed for $299,000.
This is in a spot where the well-heeled are coming to spend time on the beach, families from the city, work-from-anywhere professionals—they're all flocking there. And property values are going up.
This is exactly the sort of profitable situation I'd like to show you how to take advantage of today. And I map it all out in the new edition of my book, Ronan McMahon's Profit Principle: An Insider's Guide to Doubling Your Money in Real Estate Overseas, which I'm happy to send to your U.S. doorstep today—FREE. All I ask from you is a modest shipping fee of $5.97.
You Can Use Overseas Real Estate to Protect Your Portfolio Against Changes to the Dollar
If your portfolio is entirely reliant on one single currency staying strong—and if you're like most folks, it probably is—then you could be in for a shock if things take a turn for the worse.
If you have an entirely dollar-denominated, stock-heavy retirement portfolio, you're exposing yourself to two big risks: inflation and currency devaluation. Both of these can erode your buying power and force you to dip into your savings in retirement sooner and more often than you'd planned.
Diversification—across asset classes, across markets, and across currencies—can be a smart way to hedge that risk.
By investing in real estate markets that don't use the dollar, you minimize your risk and have greater potential to maximize your returns.
Now in some places—like Panama (and sometimes Mexico, too)—real estate is often priced in US dollars. However, that's not the case in many locales. Currency is a key consideration in real estate purchases all over my beat. In places like Brazil, Spain, Ireland, Portugal, Colombia, and Thailand, real estate is priced in the local currency.
In Ronan McMahon's Profit Principle I show you exactly how this can work for you and I talk about specific markets where it can be worth your while...
Your Hands-on Playbook for Profits
in Real Estate Overseas Today
I want to be clear: I think it's important that you understand how I pinpoint market opportunity—the fundamentals of how my profit principle works—so you see how it could be applied in your own portfolio.
But I wanted this book to be more than just a "text book," kind of read.
I wanted it to be a playbook you could really use to follow in my footsteps and make investments designed to double within five years.
Because doing well in real estate has a lot to do with timing. Get in at the right point of a growth trajectory, or buy when a market is in crisis but set for a resurgence, and you could stand to make a killing when real estate values rise.
That's why, inside Ronan McMahon's Profit Principle, I walk you through the places where I see opportunity on the horizon today. Inside you'll discover, for instance…
An 80-mile stretch of Caribbean coast where vacationers are heading in droves. It's becoming a hot spot for digital nomads, too—a place with all the first world comforts and amenities right alongside the ocean. It's an upmarket escape that's getting trendier and steadily more discovered. I've already made some recommendations here—like a condo you could have bought at $136,500 when I called it that lists for about $200,000 now. But the opportunity is far from gone here as the market has more growing to do, and that means there's still room for profit.
A southern European beach haven that attracts tourists from northern Europe, North America, and even South America. The weather averages 86 degrees in high season, access is easy and low-priced, day-to-day living is good-value, and special programs allow retirees to live here income-tax-free. Plus, foreigners can gain residence with a real estate purchase. Some of this area is home to "pack 'em in, get 'em drunk resorts." That's NOT the part I recommend. In the pocket I like the villages are historic and have enough charm to entice visitors all year. In September 2020, I found an opportunity there with prices from €210,000 for a 2-bed condo with good rental potential.
A golfer's dream investment...in a region of Europe where rentals can produce big returns. I found one of the best deals I've seen anywhere on the Mediterranean. It's on a course I'd put on par with Augusta or Valderrama and the condos here are high end. The developer overextended himself elsewhere and during the economic downturn, his business went under. The company that took over was willing to sell these condos at seriously undervalued prices. For instance, I found a standout unit here priced at €230,000 that I would call a €500,000 place—and when these places reach their true potential, a buyer will have more than doubled his investment. And that's before you factor in rental income.
In a country that's been dubbed the "Switzerland of South America," you'll find tranquility and a rural pace, particularly in a little corner I'm recommending, where the Path of Progress is rolling through. Tourists are starting to come in earnest and there's a disconnect between rental rates (which are high because there's limited supply) and land prices, which are still low. This is a place where you can buy low, build, and then target strong rental income. Or just sit on the land and wait for the big development trends to drive values higher. In Ronan McMahon's Profit Principle I share three ways, I fact, you could make this play work for you.
Plus I share the nuts and bolts of buying well... including a useful, detailed 12-step blueprint for doing sound due diligence on any opportunity you consider...
Three strategies for doubling your money—including where a crisis angle works and how to spot plays in the path of progress...
Five different ways you can buy low for maximum profits...including "unloved" properties...buying at auction...land banking...and more...
What you really need to know about buying pre-construction to ensure you're buying at the right price, in the right place, and with the right contract...
Seven things you need to consider and do to choose a rental property that will toss off excellent yields...
And lots, lots more including additional destinations worth watching and more how-to guidance for taking smart advantage of real estate opportunities around the world today that could throw off gains of 100% and more in five years or less...
Reserve Your Copy For Free Today
The most important point I want to make here is this: Now is a good time to invest in real estate overseas.
In the markets where I have my eye today... you can capitalize on special situations and on positive trends that point to profits... never mind what happens in the United States.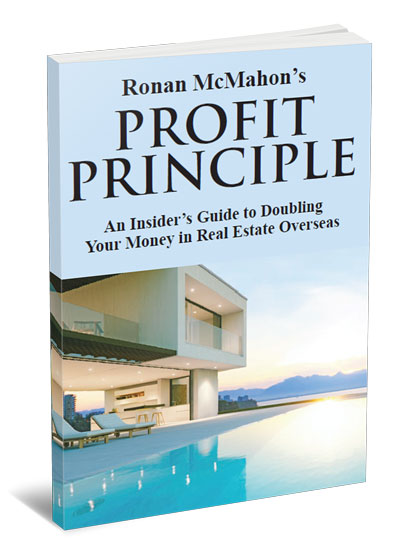 What's more, these markets are attractive not just from an investment standpoint...they're also places you might choose to spend time...
From a world-class stretch of Caribbean beach, complete with coconut palms and powder-white sand...to an undiscovered retreat on the South American coast...to a swank getaway on Spain's Costa del Sol...
From rich farm country...to a Pacific-coast frontier about to hit the big time...to a sophisticated, arts-rich city few people give a second thought to...
I believe this level of opportunity for gains—in places you could double your money in five years—will not likely be repeated in our lifetimes.
And that is why, even though this book has a value of $34.97—and the information inside would be a steal at 20 times that amount—I'd like to send a copy to your doorstep today, FREE. All I ask is that you cover the shipping fee of $5.97.
And when you take me up on this special deal, I'll include a few extras, too...
Special "Bonus Chapter" Delivers An Early-in, Low-Priced Deal You Can Take Advantage of Right Now
I wrote this book because I want to open people's eyes to the tremendous potential benefits of investing in real estate overseas.
And I want to point to specific markets worth your attention today.
But beyond that, I'd like to actually connect you—directly—to the kind of deal that's worth your while in these markets. I want to help you take the next step and actually take action and invest wisely overseas.
That's why I'd also like to send you a "Bonus Chapter" to this book.
It's not part of the printed edition—I wrote this added chapter after the book went to press—but I'd be happy to email it to you when you claim your FREE copy of my book.
In this "Bonus Chapter," you'll find the details about a specific, actionable deal that you can take advantage of right now, right away. That's why I didn't include it in the printed edition, really. It's something you need to know about now—it can't wait for the mailman to deliver—and it's not something that will be available for long. It's a time-sensitive deal. But a deal that very much reflects the opportunity I see in real estate overseas right now.
You know, when you're investing in real estate, you make your money when you buy... not when you sell. It's at that point of purchase that you set yourself up for future gains.
If you can get in at a low enough price—in a market that meets the criteria I set out in my Profit Principle—then you position yourself for significant profits, gains of as much as 100% or more in five years—or less.
When I'm out doing research—on the road in Latin America or in Southeast Asia or in Europe—I'm looking for deals I'd be interested in for my own portfolio...
But that's not all.
I'm also out looking for profit plays on behalf of a group of interested readers who follow my recommendations. And my alliance with this group is useful—for all of us.
That's because it allows me to negotiate deals that the average Joe walking in off the street never has access to.
This collection of "plugged in" folks who follow my recommendations functions, really, as an elite investor's group.
Insider trading might be a no-no on Wall Street, but taking the inside track in the world of international real estate is completely legal, above board—and just plain smart.
You see, the more people I have in my group, the better terms and prices I can get for all of us.
Think about it this way: If you contact a developer yourself, you're not going to get special pricing unless you're willing to buy multiple units.
The developer is going to want full price for a single unit.
But, if there are five people interested in his units, he might drop the price by 10% or 15%. If 10 people want in, he might drop it by 20%. If 20 or 30 people want in, he might offer a discount of 30%...
When I find a market situation I like, and a developer whose project meets the strict criteria I look for, and I can say to that person, "My group would be interested in this opportunity—at the right price. And we could, together, buy out your whole phase 1 inventory, say." Well, then, the developer listens.
He's willing to deal—and deal big—for the comfort of knowing he'll have a significant block of units sold all in one go. It's a welcome kick-start for him—and a smart opportunity for us to "buy right."
You get the picture.
Well, that's exactly the way I negotiated recently in a market in Latin America that is at a tipping point today. This is in a place poised for transformation—and you can join my group of investors in taking advantage of it.
You'll find the long story—with the details you need to take action on this deal—in the "bonus chapter" I'll send you, called The # 1 Place to Buy Real Estate in Costa Rica: Your Own Piece of Paradise from $24,000. Inside, I'll tell you about what I think of as Costa Rica's "secret sector" an unspoiled and overlooked Pacific-coast community poised to boom.
But here's the quick version of the situation—so you can understand why I think it's worth your while today…and why I'd like to extend this opportunity to you…
Untapped Potential: Position Yourself for Profit Along a Dramatic Stretch of Pacific Coast
Tucked along a stretch of dramatic, largely untouched Pacific coast is a spot in Costa Rica that has stayed off the radar of most tourists and expats, even though they frequent—in great numbers—other stretches of sand nearby.
However, word of this little-known destination is starting to get out, which is why I want to bring this opportunity to your attention right now. This is a very smart time to get a foot in the door in what is an unspoiled and largely overlooked place. I'm confident: It won't stay that way for long.
Until a handful of years ago, it took about 8 hours to get here from the airport or the capital. And so other, easier-to-access beach areas attracted developers, hoteliers, tourists, and expats first, which stands to reason. Today Costa Rica's tourism-marketing machine is responsible for more than $3 billion a year in revenue.
And now, this new area I shine a light on in this "bonus chapter" is beginning to open up, too. This is Costa Rica's "next frontier" as it were. In 2010 a road slashed the travel time to get here. Instead of a grueling, 8-hour drive on really rough roads, today it's a smooth, scenic 3-hour drive. And folks are starting to notice. It's becoming a go-to destination for in-the-know locals...and that tourism-marketing machine I mentioned...it's starting to take note too. Tourists are coming... (And I should note: Costa Rica is open for travelers even now, so it's one of the few places your U.S. passport will take you these days—you'll need travel insurance and a "health pass" medical form, but you can go.)
The lack of easy access for so many years helped to keep property prices low in this area, even while they rose sharply in other parts of the country. But now prices are starting to rise...and there is profit to be made...
Much of the surrounding area here is set aside in nature reserves and national parks. That's a good thing. It means the developable land is a limited commodity—they won't be making any more of it, which will help keep land values at a premium.
And it means, too, that the natural surroundings are rich with wildlife and truly spectacular Pacific Ocean views, unobstructed by the high-rise condos or big resorts that mark some of the most touristed areas of the country.
You're not without comforts in this area though, I want to make that clear. It's just low-key, natural, slow-paced....
This is a quiet, unspoiled haven, and the government wants to keep it that way. Along this portion of the coast, the jungle dives into the ocean—which means the hillsides are lush and green.
They offer habitat to spider monkeys and anteaters, scarlet macaws and shimmering hummingbirds. Humpback whales gather off the coast here...and it's not unusual for dolphins to frolic in the waters. Sea turtles nest on these beaches each year.
This is a place to go sea kayaking, surfing, fishing, diving, or to simply sit on the sand and relax.
The nearest town—close to the spot where I've negotiated a very good deal for my group of investors—is a "local secret." There are great restaurants here and everything visitors and expats need—in addition to boutique hotels, you'll find a well-stocked supermarket, internet cafes, hardware stores, dentist, doctor, salons, two French bakeries, a deli...you name it.
But this little enclave is never going to be a bustling, crowded corner of the world. Strict zoning rules should keep it low-rise and low-density. It's always going to be a nature-lover's escape. I think that's a good thing, because such retreats are becoming fewer and farther between. There's value in that scarcity.
Now, as I mentioned, I've negotiated a special deal for the small group of interested investors who follow my recommendations in what is unequivocally among the best-in-class developments in this region. Really, in Costa Rica as a whole.
I'll reveal all the details in the "bonus chapter" I'd like to send you.
But it comes down to this: My group of readers can buy lots from $24,000...
But hold onto your lot for a few years, and I predict you could sell for much more...
Now this is possible because the developer started buying land here about 30 years ago. In the late 1980's, she went on vacation and traveled all around the country—but it was this special area that really took her breath away.
She fell in love with the sharp mountains that plummet down to sandy beaches and with the incandescent blue morpho butterflies that flit about and the troops of monkeys in the trees.
When she found a farm for sale, she bought it on the spot. That's how she got started—many years ahead of the "path of progress" here. She bought the land for a song. And thanks to her vision, my group and I can still buy here at low prices.
Frankly, anyone trying to replicate today what this developer has done would have to charge $80,000 for a lot—to cover higher land values, the increased price of putting in infrastructure and the cost involved in getting permits.
Yet in this development, all that is done already. The infrastructure is all in—roads, water, and electricity. This is the gold-standard of communities. It's luxurious, with stunning views both to the mountains and to the Pacific. It's a low-rise, low-density community. And from here you're close to town and have your choice of unspoiled beaches within easy reach.
Plus the holding costs are low: Typical homeowners' fees on lots run around $30-$50 a month. And your property tax would come to around $100—a year.
Not only that, but you don't need $24,000 to get in. The deal I negotiated for my group allows for a $4,800 deposit and monthly payments of just $362 per month over five years.
That's less than an average car payment. And it gives you an asset that's gaining value instead of depreciating.
I should say, too, that you might want to build a second home here to use as a rental or even as your own retirement escape—up to you, of course. Either way, there's no timeframe or requirement to build.
Again, because it's located close to the beach and town—the location is ideal. And even if you choose not to build a home at all...this is an investment opportunity that can make very smart sense.
You'll find all the details about exactly where this is—and specific details about the private deal I've negotiated on behalf of my group—in the "bonus chapter" I'll email you titled The # 1 Place to Buy Real Estate in Costa Rica: Your Own Piece of Paradise from $24,000.
It's yours when you claim your FREE copy of Ronan McMahon's Profit Principle: An Insider's Guide to Doubling Your Money in Real Estate Overseas today. You pay only $5.97 shipping.
This Package Is Available Only Here
I encourage you to take me up on this special deal.
Right now, this is the only place this book is available—and this bonus chapter will never be accessible anywhere else.
Supplies are limited for this special-edition package that comes with the bonus chapter included.
If we decided to put this book in our bookstore—we'd sell it for $34.97 (which is what my other book sells for). But today you have the opportunity to claim a copy with this special offer, FREE. All I ask from you is $5.97 shipping.
They're available on a first-come, first-served basis—and we don't expect them to last, so if you're even a little intrigued by the prospects of investing for profit outside the States, outside the dollar, outside the stock market…I encourage you to claim your special book-with-bonus-chapter package today…while you can do so—FREE.
Successful Investors Agree: This Closely Held Profit Formula Really Works...
I'm not the only one who's done well on the opportunities I've found overseas...
One investor who applied the formula I reveal in my book wrote in to tell me about a lot he'd bought in Corozal, Belize. He purchased it for $50,000. When he sold it again four years later, he sold it for $129,000. That's a gain of $79,000—more than double his original investment—in just four years.
Another couple acted on a recommendation I made for a property in Mexico's Riviera Maya, one of the strongest locales on my beat. They locked down a home there when pricing was at $359,000. Two years later, when they sold, that property netted them $480,000—a gain of more than $120,000, in just two years.
One investor bought one of the pre-construction condos I recommended in Brazil—the same ones I invested in—in 2008. He held onto his condos until 2014. When he sold, he more than doubled his investment, turning a 215,000 reais condo into a 450,000 reais condo.
Of course, keep in mind that currencies are subject to fluctuation, so the exchange rates I've used to show you US dollar figures may have changed since I calculated them. That being said…
Those are all examples of how well investors can do when they know how to buy real estate overseas using my formula for profits. At any moment in time, there is opportunity to buy well somewhere in the world, and in the pages of Ronan McMahon's Profit Principle: An Insider's Guide to Doubling Your Money in Real Estate Overseas, I show you step-by-step how to find those places.
This deal gets even better...
Special Bonus Gift #1 How to Parlay a Real Estate

Investment into a Second Passport
When you claim your free copy of Ronan McMahon's Profit Principle I'll also include this special bonus gift: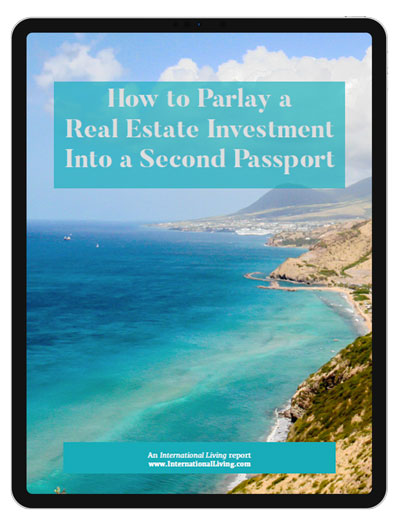 How to Parlay a Real Estate Investment into a Second Passport shows you how you could turn a real estate deal you're excited about into more than just profits…but into a second citizenship as well.
The idea of a second passport is one whose time has come and this is an insider's guide to the top three citizenship-by-investment programs in the world.
You may not realize it, but as a U.S. citizen, you can get citizenship and a passport from another country—without giving up your U.S. passport.
And you don't need a spouse or ancestor from that country to get it, either.
With all the political turmoil in the world, there's been a lot of buzz about second citizenship and passports over the last few years. The market for "citizenship by investment" (CBI) is now thought to be worth billions of dollars a year .
And the benefits to having a second passport are persuasive...
Expanded travel and investment possibilities; for instance, citizenship-by-investment in one country allows you to invest not only there, but in members of CARICOM, the Caribbean Community. There are 15-member countries and five associate members.
The right to reside in another country or countries; for instance, citizenship-by-investment from one European nation allows you to live not only there, but in any of the other EU countries.
And, too, keep in mind that the government can cancel or refuse to renew your U.S. passport at any time. In the U.S., the State Department can exercise this power for a number of reasons, including having a "seriously delinquent tax debt." This is when you owe the IRS $52,000 or more in tax, interest, and penalties. The possibility that the IRS could "ground" you is another reason to think about getting a second passport.
You can claim your copy of How to Parlay a Real Estate Investment into a Second Passport—along with Ronan McMahon's Profit Principle FREE (again, just pay a small, non-refundable $5.97 fee to cover shipping).
I am confident you'll enjoy—and greatly benefit from—these resources.
But that's not all.
Let me know today that you'd like to claim your book with the "bonus chapter" as well as this additional bonus, and I'll send you yet another special bonus gift...also FREE.
Special Bonus Gift # 2 Crisis Investing in Global Real Estate Today—How (and Where) to Find a Clear Path to Profits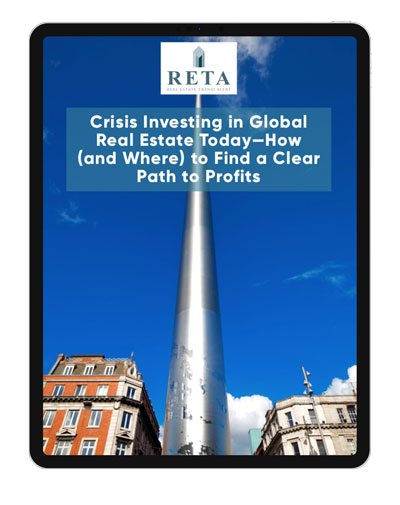 Crisis investing can make fortunes. "Buy when there's blood in the streets," as the old saying goes. A crisis is the time to snap up an asset cheaply...extremely undervalued. Then, when the crisis is over, and the true value is recognized, you have an asset that's worth many times more than you paid.
First, though, you have to find the right crisis. And not every crisis offers an opportunity for smart real estate investment. Check your newsfeed right now and you'll see a world in turmoil, a crisis in every corner.
But I don't see many crisis real estate deals despite the fact that I love this play. The truth is: The right crisis comes along maybe once a decade and you want to be ready.
I show you how you can be in Crisis Investing in Global Real Estate Today—How (and Where) to Find a Clear Path to Profits.
Identifying true opportunity takes deep research and a good understanding of global markets. As an investor I don't want to gamble on a recovery...I want to feel it's a sure thing. And by recovery I mean a post-crisis scenario that will see values soar. It doesn't imply things will be perfect. Just that for a crisis to be an opportunity you have to see a clear end to the crisis and a compelling reason for a bounce back in the future. A clear and easy- to-understand reason that there will be demand for the real estate we can buy for a song.
Put simply, you want a clear path to profits. And once you've found the right crisis, you need to be thoughtful about the specific property you buy. And, too, you need to wait for a trigger event.
I explore all those details in Crisis Investing in Global Real Estate Today—How (and Where) to Find a Clear Path to Profits. Plus, I point to places where my team and I have our attention focused today and tell you why and what you, too, should watch for there. For instance:
A post-Brexit play in Europe—I've got my eye on several expat havens in France and the South of Spain... where motivated sellers are more worried about what their homes will fetch in sterling—than they are the euro price.
The country I've taken to calling the "sick man of Europe." It's a slow-burning crisis that has seen real estate values fall across most regions for the past 15 years. Amid this, though, I've found opportunities to own apartments in historic cities that could, within three months, be throwing off 15% gross yields. I'll tell you where and how.
A Pacific-coast country with vast potential that's deep in political crisis, a crisis which caused the economy to shrink by nearly 4% in 2018 and caused a contraction of 9% in 2019. Yet the potential here is unbelievable. Beaches, highlands, colonial cities. I've periodically recommended buys here over the years, and soon we may see another of those "right times."
I explore all of that—and more—in Crisis Investing in Global Real Estate Today—How (and Where) to Find a Clear Path to Profits, which is yours free when you take me up on this special offer.
And that's still not all you'll receive when you claim your FREE copy of Ronan McMahon's Profit Principle today…
Because I believe that to really maximize your gains in real estate overseas it helps to have a guide "hold your hand" as it were along the way, I'll also include in this special deal a 30-day trial membership to my Real Estate Trend Alert research service, which hands you access to every deal I negotiate. (Access the average guy on the street just can't get.)
I mentioned earlier that a collection of "insiders" follows my recommendations, functioning, really, as an elite investor's group. Well these guys are all members of my Real Estate Trend Alert service.
Free Access to All the Special Deals I
Negotiate on Behalf of My Investor Group
So with this special deal today, you gain a 30-day free trial membership in RETA as well. It's through this research service that I share the intelligence I gather as I research the best markets and opportunities around the world today.
I think you'll be impressed with what you discover. But you'll have 30 days to be the judge and to cancel if you decide that's what you want to do. If we do NOT hear from you during those 30 days, we'll assume you're happy to stay on as a RETA member, and we'll charge your credit card $249.75 $99 for a 3-month membership. With this special offer, you pay less than half the full fee—saving 60%. And, of course, any time after those initial 30 days, you can always cancel for a pro-rated discount. No questions, no fuss.
It is as part of my RETA research service that I alert folks about the deals I've struck on our behalf and where I answer questions, recommend investments, and keep in touch with the readers who, like me and you, are interested in potentially pocketing real estate gains of 100% and more within five years.
By way of full disclosure: My company, Pangea Ltd.—a real estate advertising company and International Living's preferred advertising partner—may earn advertising fees on the deals I pass along to my RETA members. This helps fund the travel, due diligence, and resultant legal investigations my team and I do on every deal.
And RETA members get a killer price on the property deals I recommend...
As I said before, I'm able to leverage the power of this alliance to negotiate deals with developers that nobody else can touch.
And as a RETA member, you're eligible to take advantage of any of the opportunities I present to the group. For instance, I've brought to the table recently—
A chance to own two-bed, two-bath condos on Tulum, Mexico's emerging "Golden Mile" from $143,000 and lock in potential gains of $56,000 within, I'd predict, three years (and do it with exclusive developer financing and attractive payment terms).
A modern-day Eden in Costa Rica—a bountiful land of fruits, forests, and almost endless ocean views. This is "best-in-class" stuff—a truly high end development where we can grab gorgeous lots from $102,800. Here the rich ocean waters are warm all year—home to whales, dolphins, and turtles. The coastline is a long stretch of sandy beaches, natural, unspoiled, uncrowded—a spot people compare to Hawaii and Tahiti. I'd expect appreciation gains from $42,200 to $77,200 within five years.
A spot in Panama on the beach where members can get in from $219,000, which provides two self-contained luxury hotel suites—fully furnished and equipped. Turnkey. And this is a deal that offers some incredible income and capital appreciation potential. Delivery on these units is slated for 2023. I figure around five years after, we could be looking at appreciation of $145,700—a six-figure gain. Plus there's a strong rental-income angle here, too, once the hotel is fully up and running.
With your free-trial RETA membership for 30 days, you'll have instant access to the details about all those opportunities…and more…
As a member of my group—Real Estate Trends Alert—you'll receive—
Regular monthly newsletter issues that not only fill in all the details on what I'm currently researching or investing in, but also give you the inside scoop and contact information for some of the top experts in real estate, law, mortgage, title insurance, and other fields that help you easily, safely, and efficiently buy properties.
Instant "flash alerts" sent via email about the hottest investment opportunities—before the public hears about them. Not every good deal I come across is sponsored by a developer who has a whole raft of inventory. Sometimes it's a single property or an unusual opportunity members might like. That's when I'll send a "flash alert" out just to let you know the details.
Invitations to members-only scouting trips you can attend free or for a very modest fee—an opportunity for a small group of members to see a place for themselves, meet my contacts on the ground, and evaluate for themselves whether a deal might make sense for them—or not. (We've migrated some of these online to make them virtual for the moment—but we'll have in-person trips available again as soon as we safely can.)
Unrestricted access to the password-protected RETA website, where you can stay abreast of the latest news and developments…get hot tips and recommendations…and be first to know about real estate deals that you can quickly lock in at specially negotiated members-only pricing.
To Sum Up…

For a Non-Refundable $5.97

Shipping Fee, You'll

Receive All These Resources, FREE…

This special package isn't available anyplace else…but it's yours—FREE—right now through this special offer. All I ask is that you cover shipping, for a non-refundable $5.97 today.

Let me know where to ship your book, and I'll send you all of this—
Ronan McMahon's Profit Principle: An Insider's Guide to Doubling Your Money in Real Estate Overseas, second edition (shipped in the mail to your doorstep, value $34.97, yours FREE)
Special Bonus Chapter: Costa Rica's Secret Sector: An Unspoiled and Overlooked Pacific-coast Community Poised to Boom (emailed to you immediately, yours FREE)
Special Bonus Gift # 1: How to Parlay a Real Estate Investment into a Second Passport (emailed to you immediately, yours FREE)
Special Bonus Gift # 2: Crisis Investing in Global Real Estate Today—How (and Where) to Find a Clear Path to Profits (emailed to you immediately, yours FREE)
Free 30-Day Trial Membership in Real Estate Trend Alert investment service includes full access to all member benefits—monthly communique and flash alerts sent via email as well as paid-member website access (Worth: $124.50/quarter, yours FREE for 30 days)
Plus, we'll give you a subscription to International Living's Dream Home Letter, too—every day you'll learn about the best places to buy real estate for fun or profit and enjoy life overseas.
Frankly, I'm losing money on this deal. But I'm willing to do it because I think this is the perfect way to introduce you to the truly extraordinary profit possibilities that exist in real estate overseas today and give you what amounts to "free samples" of what I do.
If you're as impressed as I think you'll be, then my sincerest hope is that you'll stick around for more.
Of course, that's up to you to decide. I feel confident my work and my research will speak for itself. That's why I'm happy to send you this valuable research package for just $5.97, which covers shipping.
I think you'll be impressed once you see everything for yourself. But you'll have 30 days to be the judge and to cancel if you decide that's what you want to do.
If we do NOT hear from you, we'll assume you're happy to keep your RETA membership, and we'll charge your credit card not the regular $999 for a year, but a deeply discounted $249.75 $99 for a 3-month membership. That way, you save a full 60% off the price.
It means you can try it out with very little commitment—saving 60% off the regular membership. And you'll lock in that low $99 quarterly rate—it won't go up.
We've printed only limited copies of Ronan McMahon's Profit Principle: An Insider's Guide to Doubling Your Money in Real Estate Overseas and they are available on a first-come, first-served basis. So if you're interested in this special deal, I ask that you please act soon.
REMEMBER: This book is available only right here.
Click the "Reserve Now" button below to get started today.
This will take you to a secure order form page where you can review the details of your order and provide the details of where you'd like your book and bonus research sent.
The bonus materials will be sent to you via email within minutes of you placing your order as will your member-access password for the Real Estate Trend Alert website.
The book will arrive at your mailing address within 14 days.
Sincerely,

Ronan McMahon,
Real Estate Trend Alert
P.S. International real estate may be the last truly safe asset class that exists today. When purchased under an individual's name, for instance, it requires zero reporting on any U.S. tax form, which makes it a supremely useful as a tool for legally moving and protecting your assets outside the States.
That's just one more reason to consider a smart investment like the ones I'll introduce you to in Ronan McMahon's Profit Principle: An Insider's Guide to Doubling Your Money in Real Estate Overseas. Claim your free copy now—and I'll drop it in the mail to you for just $5.97 shipping.
But remember, copies are limited and they're available on a first-come, first-served basis, so don't delay. Claim your copy in your name here now. Simply click the "Reserve Now" button below.